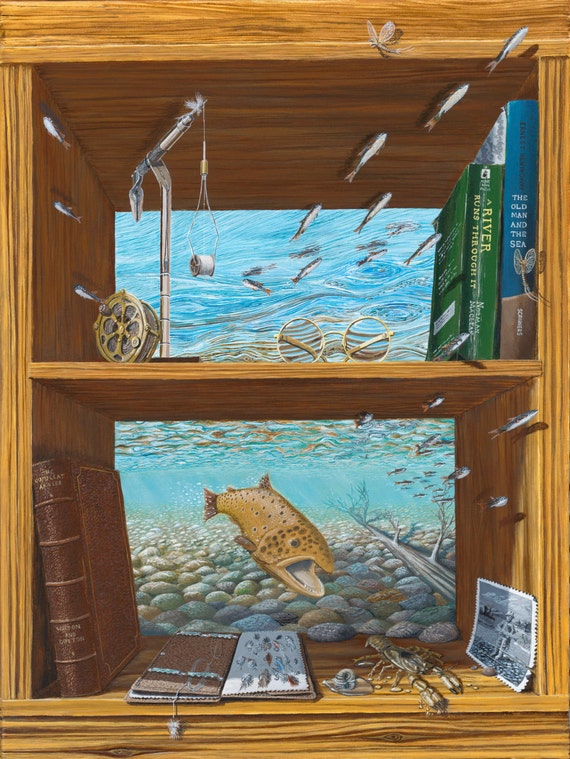 "A river runs through it".
Susan J. Schneider lives in North Central Arkansas in the middle of the Ozark Mountains right next to Norfolk Lake, in a little cabin in the woods. She moved there 21 years ago to fish, paint, look for wild mushrooms, hike in the woods and live a simpler life. She left Chicago when she was 35 and never looked back. She was a Certified Public Accountant with her own practice until 2011 when she decided she'd had enough of the rat race and brought her passion out from childhood and high school art.
Her Father was a professional architectural photographer with his own business for his whole working life. Susan grew up in her fathers camera shop waiting on customers, sorting pictures, answering the phones and checking customer photos for quality control. Even before she was given a working camera at 12 years old, she was already drawing everything in sight! No pencil, ballpoint pen or paper was safe in her house.
In 2011 she closed her office because no one was getting any younger and it was just time. She decided to "go big or go home" and painted a twenty-foot by 12 foot mural. In perfect , 3-D perspective. It took her almost two years (weather) but she got what she wanted. She's been painting and making beaded jewelry since then.
Susan is inspired by the woods where she lives and all of the history there. She see's something new every day there. She can go fishing almost every day and go for hikes in the woods. She spends most of her time painting with acrylic paints on board and canvas, but also does commissions where she has painted before a whole house as well as other large murals. She has painted sculptures and even a six foot tall saw blade with a whole underwater scene on it.
Her underwater scenes were inspired by swimming and snorkeling and of course fishing. She has done some of the best crappie, large and small mouth bass, walleye, catfish and trout fishing right where she lives.
She paints mostly from memory and imagination, buut when she can, she really enjoys painting from life. Her studio is her house which is filled with all sorts if weird things! She finds beauty in painting everyday objects, especially animals, hand tools, farming stuffand outdoor things. In the new year she plans on painting as much as possible.
Susan we want to thank you from the bottom and top of our hearts for sending us out a print of one of your paintings and appreciate you taking the time to chat with us and let us in to a little biut of your world.
You can find Susan's work at cabinhillgallery.com and also her etsy page at https://www.etsy.com/shop/cabinhillgallery?ref=l2-shop-header-avatar